Shanghai International Automotive Chassis System & Manufacturing Engineering Technology Expo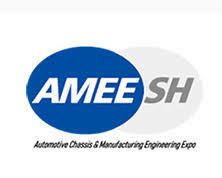 This professional technology exhibition is held for the automotive chassis system industry chain. AMEE will be a showcase for cutting-edge technologies and a display platform for intelligence, electrification, electronics and lightweight solutions for new-energy automotive chassis systems, chassis design & development engineering, advanced manufacturing engineering, chassis trend engineering, and lean product engineering of passenger vehicles, commercial vehicles and special vehicles, and other relevant industrial chains.
The exhibition's scope will cover chassis design, development & trial-manufacture engineering, new material application engineering for chassis', chassis system lightweight engineering, chassis parts manufacturing processes and equipment, assembly and final assembly technology of chassis parts, chassis parts measurement and testing technology, robot integrated technology chassis applications, chassis intelligence, electrification technology, chassis system parts, chassis system integration, and other products, equipment and technical solutions.