With an inspiring shortlist and a world-renowned international jury, 2017 was another great year for the Vehicle Dynamics International Awards
The jury:
Choi Joo-sik, Autocar Korea
Robert Bielecki, Oponeo, Poland
Christophe Congrega, L'Automobile Magazine, France
Brian Cowan, freelance, New Zealand
Carl Cunanan: C!, Philippines
Padraic Deane, managing editor, Automotive Publications, Ireland
Tarcisio Dias de Araujo, Mecânica Online, Brazil
Jim Kenzie, Toronto Star, Canada
Nikos Kounitis, 4Wheels, Auto Bild Hellas, Greece
Nicol Louw, Car South Africa
Marco Marelli, freelance, Italy
Frank Markus, Motor Trend, USA
Roberto Nasser, O Globo, Brazil
Marc Noordeloos, freelance, USA
Sergio Oliveira de Melo, El Informador, Mexico
Tomaz Porekar, Avto Magazin, Slovenia
Alvaro Sauras Alonso, Autofacil and CAR&Tecno, Spain
Mohamad Sheta, Al-Masry Al-Youm Newspaper, Auto Arabia, Middle East Auto News Agency
Gábor Szécsényi, Az Autó and Retro Mobil, Hungary
Oleg Vasilevsky, Auto Bild, Ukraine
Graham Johnson, UKi Media & Events, UK
Hormazd Sorabjee, Autocar India
Jürgen Zöllter – freelance, Germany
These are the vehicle dynamics innovations, professionals and technologies that have won this year's honors…
---
Car of the Year: 
BMW 5 Series
Dynamics have been a key focus for the 2017 5 Series, for which the dynamics team has designed a new chassis, lowered the center of gravity, increased torsional stiffness, and reduced body weight through the increased use of aluminum, magnesium and high-strength steels – indeed the new model is 100kg lighter than its predecessor.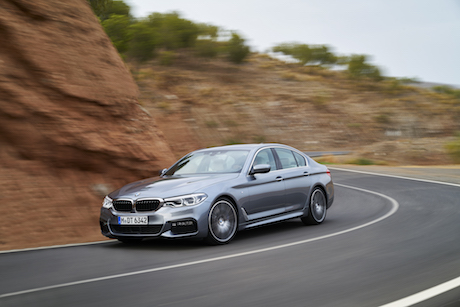 Separating the construction of the double-wishbone front suspension into an upper and a lower control arm level gave the engineers freedom to fine-tune the balance between dynamics and comfort. As the spring struts are not required to perform wheel position functions, they only have to handle minimal transverse forces.
The new five-link rear suspension features specially calibrated elastokinematics, with the large axle subframe mounting and supporting system, the compression strut connecting the suspension and body, and the high structural stiffness, all combining to create an excellent balance between agility and comfort. The 2017 model also marks the first time that BMW's xDrive intelligent all-wheel-drive system can be combined with Integral Active Steering.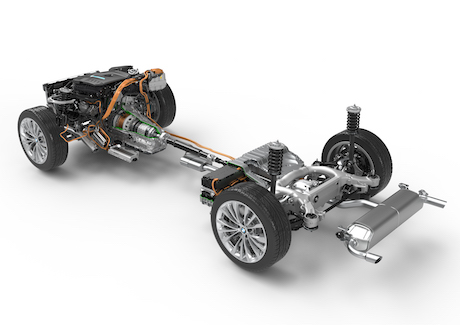 What the jury said:
Choi Joo-Sik, editor, Autocar Korea: "A clear development toward an autonomous system"
Nicol Louw, technical editor, Car South Africa: "The new 5 Series achieves the perfect balance between comfort, refinement and sportiness for the segment. This is arguably a greater achievement than the outright dynamic ability of a sportscar"
Hormazd Sorabjee, Autocar India: "Both ride comfort and handling are top class, with no trade-off"
Highly commended: 
Alfa Romeo Giulia
Runners up:
Honda Civic
Land Rover Discovery
Aston Martin DB11
---
Vehicle Dynamicist of the Year:
Leonardo Pascali, McLaren Automotive
Pascali came close to victory in last year's awards, but some sterling work over the past 12 months has seen him win much-deserved recognition for 2017. His success is impressive since he is still a relatively new face at McLaren, having only joined in early 2015 as head of chassis and vehicle technology, but his strong background in dynamics, with previous experience as chassis dynamics manager at Porsche and head of vehicle dynamics at Centro Ricerche Fiat, has given him the talent to do some great work.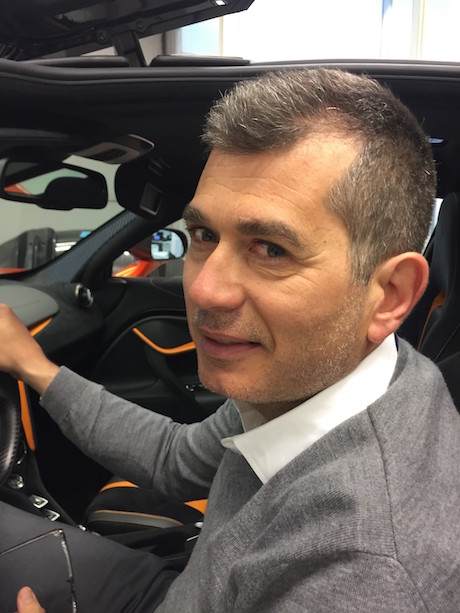 Pascali is helping to bring the brand into new customer territory through vehicles such as the 'baby' 570S and 540C models, with other current and recent projects underway including the 570GT, 675LT Spider, 720S, and the forthcoming BP23 – a highly anticipated three-seat successor to the iconic F1.
He also helped develop the carbon-fiber MonoCell II chassis, which weighs just 75kg and provides immense rigidity and stiffness that translates into outstanding dynamics. The next stage is the MonoCage II carbon-fiber body structure for the second-generation McLaren Super Series, which will help the new Super Series achieve a lightest dry weight of just 1,283kg –18kg lighter than the already featherweight McLaren 650S – with the claim it will offer "the widest breadth of dynamic ability of any McLaren".
Pascali's recent work also includes Proactive Chassis Control II (an advanced new generation of the company's multi-mode chassis control system), which uses 12 more sensors than on previous Super Series models – including an accelerometer on each wheel hub – to 'read' inputs from the road and measure the tire contact patches. The information is then analyzed in milliseconds by the Optimal Controller algorithm at the core of the system, and the suspension damping is immediately optimized accordingly.
Another new project under Pascali's watch is McLaren Variable Drift Control, which provides greater involvement for drivers who want to fully explore the dynamic ability of the car, enabling the level of electronic stability control intensity to be varied with a swipe of the central infotainment screen.
Amazing work from an amazing dynamicist!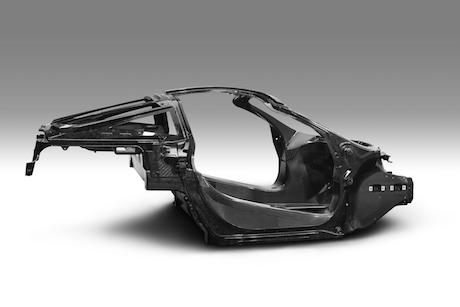 Above: The new Super Series is created around an ultra-lightweight, carbon fiber central structure that is immensely rigid, yet weighs less than the carbon fiber and metal cockpit architecture of the first-generation Super Series. The Monocage II contributes to a dry weight of just 1,283kg
What the jury said:
Christophe Congrega, L'Automobile Magazine, France: "McLaren is the perfect example of good settings, with a perfect balance between agility, handling (even in the wet), very high grip, and last but not least, very good confidence due to perfect progression in the steering"
Hormazd Sorabjee, Autocar India: "Leonardo Pascali's depth of experience and nuanced understanding of chassis engineering allows him to deliver a finely judged balance of ride and handling"
Choi Joo-Sik, editor, Autocar Korea: "Leonardo is in continuous pursuit of high performance"
Highly commended:
Roberto Fedeli, CTO, Alfa Romeo
Runners up:
Victor Underberg, director of vehicle dynamics, Audi
Mitsuru Kariya, chief engineer, Honda
Matt Becker, chief engineer – vehicle attribute engineering, Aston Martin Lagonda
---
Innovation of the Year:
Audi eROT
According to Audi, energy recuperation will play an increasingly important role in future mobility, including vehicle suspension systems. With this in mind, the company's engineers are developing eROT, a prototype system in which electromechanical rotary dampers replace the hydraulic dampers used today for a more comfortable ride.
The basic principle behind eROT is that every pothole, every bump, every curve induces kinetic energy in the car. Today's dampers absorb this energy, which is lost in the form of heat. With the new electromechanical damper system in the 48V electrical system, this energy can be put to use and presents new possibilities for adjusting the suspension.
The eROT system is intended to respond quickly and with minimal inertia. As an actively controlled suspension, it adapts to irregularities in the road surface and the driver's driving style, with a damper characteristic that is virtually freely definable via software.
According to Audi, the damper design would eliminate the mutual dependence of the rebound and compression strokes that limit conventional hydraulic dampers. With eROT, Audi configures the compression stroke to be comfortably soft without compromising the taut damping of the rebound stroke.
Another advantage of the system is its geometry, with the horizontally arranged electric motors in the rear axle area replacing the upright telescopic shock absorbers, which allows for additional space in the luggage compartment.
To convert the kinetic energy generated during compression and rebound into electricity, a lever arm absorbs the motion of the wheel carrier and transmits this force via a series of gears to an electric motor, which converts it into electricity. The recuperation output is claimed to be 100-150W on average during testing on German roads – from 3W on a freshly paved freeway to 613W on a rough secondary road. Under customer driving conditions, this would correspond to a CO2 saving of up to 3g/km (4.8g/mile).
According to Audi, initial test results for the eROT technology are promising, and its use in future Audi production models is certainly plausible. A prerequisite for this is the 48V electrical system, which is a central component of Audi's electrification strategy. In the next version planned for release later this year, the 48V system will serve as the primary electrical system in a new Audi model and feed a high-performance mild hybrid drive, offering potential fuel savings of up to 0.7 liters per 100km.
What the jury said:
Tarcisio Dias, Mecânica, Brazil: "The greater the options for energy recovery, the better. Audi's eROT system allows one more gain: efficient use of energy in the system, reduction in the emission of gases, and greater comfort and internal space"
Sergio Oliveira, El Informador, Mexico: "Audi eROT paves the way for the next logical phase of electrification (mild hybrids), enabling the development of innovative solutions for energy recovery systems"
Nicol Louw, technical editor, Car South Africa: "The advantage of the system is that it not only chases efficiency gains, but has the added advantage of more compact packaging and real-time suspension tuning benefits"
---
Dynamics Team of the Year:
Audi
While Audi's dynamics team have been busy developing the award-winning eROT system, they have also found time to develop new models – several new models, in fact.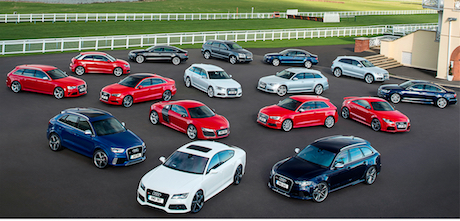 The all-new Q7 SUV features a compact five-link suspension layout that allows for optimized steering rack placement, with handling and comfort enhancements generated through the reduced unsprung weight of lightweight aluminum control arm components and revised elastokinematic attributes. The sportier 429bhp SQ7 version adds in active anti-roll bars to stiffen the car for greater stability.
On a smaller scale, the Q2  features Progressive steering as standard in all versions, which varies the steering gear ratio as a function of the steering input. Installed at the rear on the front-wheel-drive versions is a semi-independent suspension, while the Quattro models have a four-link suspension.
The new A3 has a revised chassis with a McPherson construction with wishbones at the front axle, and a multi-link rear suspension, while the new A5 has an entirely newly developed chassis, a new electromechanical power steering system, and optional dynamic steering.
Other recent projects include new models and revisions, such as the S1 (complete with torque vectoring, a thoroughly revised chassis and specially developed electromechanical power steering), and performance variants such as the S4, S5, SQ5, RS3, RS5 and RS7, with work on the Q8 SUV coupe underway.
What the jury said:
Tarcisio Dias, Mecânica, Brazil: "It is very good to observe Audi's engineering activities being applied in a wider range of models. The dynamic behavior of their models is always evolving"
Christophe Congrega, L'Automobile Magazine, France: "Audi really made a lot of good products over this last year, with very well calibrated steering systems and adaptive suspensions. Good handling means good products…"
Highly commended: 
BMW
Runners up:
---
Development Tool of the Year:
Cruden Panthera Free
Cruden has made an unprecedented move to make its Panthera Free professional driving simulator software available to the market for free, as a download. This unusual decision was made in order to allow automotive engineers to experiment freely, either professionally or personally, with driver-in-the-loop simulator software, without workplace and university license restrictions – and also for Cruden to launch itself as a provider of standalone, open architecture simulator software.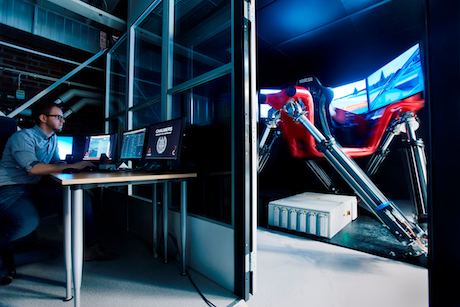 The product has seen many new users introduced to professional-level DIL simulation, who can now drive, modify and expand their vehicle models, run simulations, add interfaces to hardware, and use custom cars and tracks.
This approach by Cruden shows a real passion for the vehicle dynamics community, which we are pleased to reward.
What the jury said:
Tomaž Porekar, Avto Magazin, Slovenia: "Cruden deserves the prize for its approach of designing a professional product and putting it on the market for free"
Gábor Szécsényi, Az Autó and Retro Mobil, Hungary: "Making it available for free gives a good chance to everyone (including universities) to learn and also to improve. That's a brave and important step toward the future of cooperative 'open platform' car development"
Nicol Louw, technical editor, Car South Africa: "Licensing fees can be prohibitive for small firms, and the bold move of Cruden to make its Panthera software available for free needs to be applauded. This serves both to promote the brand and to help get small firms on the path of simulation optimization"