Cayman Dynamics, LLC provides vehicle dynamics development, testing, benchmarking and training expertise to automotive OE manufacturers and suppliers.
MVO (Metallverarbeitung Ostalb) GmbH is a manufacturer of precision steering racks and other components. Through the purchase of the Bishop Steering Technology (BST) group of companies in 2011 and the subsequent fusion with BST GmbH, MVO now also offers Bishop technology in Europe. MVO is now in production with Bishop's patented variable ratio technology (BishopVR™ and ActivRak™) as well as supporting the power steering valve technology in Europe.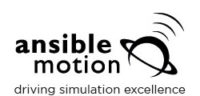 Founded in 2009, Ansible Motion comprises a group of knowledgeable professionals with experience in the specialised fields required to design, build, deploy and support Driver-in-the-Loop (DIL) simulators.