Solvay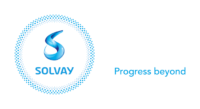 Solvay is a science company whose technologies bring benefits to many aspects of daily life. Specifically for the automotive products world, Solvay is a pioneer and credible partner that delivers e-mobility solutions and materials for the future of transportation. With over 40 years of expertise in the automotive industry, Solvay offers solutions that are reliable, consistent, of great quality and that are sustainable and innovative.
With an impeccable, proven track record of delivering practical solutions for even the most technical of applications, Solvay's goal is to advance the transportation of tomorrow. To meet this aim, Solvay offers a versatile product portfolio that is designed for the latest automotive trends and that enables improvements in key areas such as powertrain efficiency, electrification, lightweighting, and green and clean technologies.
Solvay's commitment to create a better world through innovation and persistence shows in all its areas of expertise. From e-mobility to body and chassis, thermal management, internal combustion engine, tyres, transmission and motorsport, Solvay has the right solutions and expertise to meet the automotive industry's needs. Visit our website to learn more.