Car of the Year: Ford Focus RS
Since the introduction of the first model in 2002, Ford's Focus RS has completely rewritten the hot hatch rulebook. So impressive is the 2016 model that it is straddling the line between hot hatch and all-out performance sports car. The car's 345bhp is impressive, but the dynamics package is as impressive – probably more so, in fact.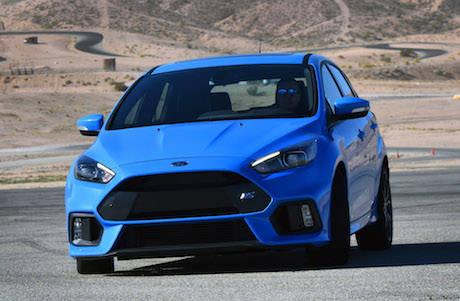 The new four-wheel-drive setup on the 2016 RS uses GKN's dual-clutch Twinster torque vectoring all-wheel-drive (AWD) system to allow for overspeeding of either or both rear wheels for greater feel and responsiveness and improved handling. To enable this setup, the torque vectoring rear-drive module, as well as the power transfer unit and CVJ sideshafts, had to be integrated into the base front-wheel-drive Focus platform – rather a tight squeeze!
New control algorithms were also developed for the torque vectoring system to give the driveline four driving modes: Normal, Sport, Track and Drift. In this latter mode, the AWD system delivers even more of the 324 lb/ft of available torque to the rear axle for the RS to achieve a controlled 'drift' through corners. Of course, being a four door, five-seat family hatchback, the Focus RS keeps a little of its ESC safety net online, to ensure that Drift Mode is fun as well as safe.
Highly commended:
Jaguar XE
Runners-up:
Renault Mégane G
BMW 7-Series
Opel/Vauxhall Astra
What the jury said:
Brian Cowan, freelance motoring writer, New Zealand: "Simplicity doesn't preclude sophistication, and the Focus' preeminence in this field has been given a further boost with the Twinster rear drive module."
Nicol Louw, technical editor, CAR magazine, South Africa: "The Ford Focus RS is not the most powerful über hatch, but by far the most entertaining to drive owing to neutral (and oversteer) handling characteristics that the opposition cannot match."
Marc Noordeloos, freelance motoring writer, USA: "The Focus RS proves that all-wheel drive can be fun in all conditions, not just inclement weather. Ford took known drivetrain technology and worked with GKN to tweak their system to new levels of entertainment and performance."
Nikos Kounitis, freelance motoring writer and editorial advisor to 4Wheels magazine, Greece: "Really fun to drive technology. Good work in combining Haldex and GKN's dual-clutch 'twinster' rear drive unit; the system works very well in tight bends."
Frank Markus, Motor Trend, USA: "Transforming a workaday front-drive hatch into a road-burner this eager to change direction on a demanding road is indeed an award-worthy accomplishment."
Jim Kenzie, Toronto Star, Canada: "The Focus RS simply rewrites the rulebook for how sporting hatchbacks behave. The combination of handling prowess, safety and security, and the sheer hooliganism of the Drift mode (which could only be better if when selecting it, a laser hologram of Ken Block appeared in the passenger seat) blends performance and pure driving pleasure like few cars ever have."
Mike Cross has a deep engineering knowledge and a talent for vehicle driving and evaluation that have made him something of a legend in the dynamics world. His recent work on the Jaguar side includes the F-Pace, the XE, and the revised XJ and all-new XF. With his Land Rover hat on, the Range Rover Evoque convertible is attracting great interest.
Whichever model one drives in the Jaguar Land Rover range, the dynamic performance has been optimized by Cross. Of particular note in the most recent models is the introduction of integral-link rear suspensions, adaptive dynamics, All Surface Progress Control for rear-drive stability, finely tuned EPAS systems, torque vectoring technology, and torque on-demand all-wheel-drive systems.
Combined with lightweight aluminum architectures for stiffness, strength and near 50:50 weight distribution, Cross is helping to create superb product. A worthy winner, who has long held immense respect in the industry.
Highly commended:
Victor Underberg, director of vehicle dynamics, Audi AG
Runners-up:
Pascali Leonardo, head of chassis & vehicle technology, McLaren Automotive
Dr Dirk Spaniel, head of vehicle dynamics, Daimler
Ted Klaus, chief engineer and global development leader, Acura/Honda NSX
What the jury said:
Jim Kenzie, Toronto Star, Canada: "In addition to Mike Cross's work on current Jaguar and Land Rover models, my vote for him is almost a 'Lifetime Achievement' award in recognition of his efforts over a long and stellar career in this field."
Padraic Deane, managing editor, Automotive Publications, Ireland: "Perhaps it is his understanding from driving the test mule cars when Cross applies his latest advanced dynamics that has given him the edge in developing dynamic performance to the optimum in a wide range of segments. His understanding and delivery of the highest standards of innovation and optimum balance for each vehicle is both remarkable and reassuring."
Marco Marelli, freelance motoring writer, Italy: "Until recently, taking a very fast corner in a Jaguar required much sensitivity and a lot of courage. Today this is no longer the case and the cars are much more communicative and fast thanks to their lightweight construction and also thanks to the well-tuned suspension."
Marc Noordeloos, freelance motoring writer, USA: "JLR continues to produce class-leading cars in the world of dynamics. The new Jaguar XE reminds us of a past era when compact executive saloons truly handled brilliantly."
Frank Markus, Motor Trend, USA: "Today's Jaguar and Land Rover products demonstrate dynamic driving excellence with two very different interpretations of notion of "sport," with each being equally impressive."
---
Dynamics Team of the Year: Ford Performance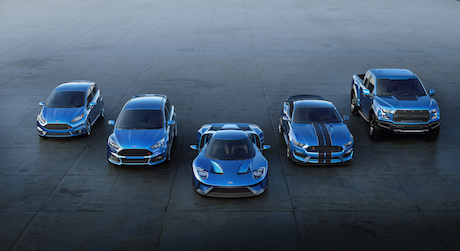 The global rebranding and expansion of Ford Performance has seen Ford introduce a number of performance-orientated models. The introduction of the third-generation Focus RS followed the reveal of the new Ford GT supercar, forming part of a 'new era' of Ford performance that will comprise 12 new vehicles by 2020.
The two new cars introduced several technologies for the brand, including the use of a heavily revised GKN Twinster differential in the Focus RS, while the knowledge garnered during development of the carbon-fiber-bodied GT supercar will form the template for all future Ford models.
Combined with the Car of the Year accolade, this has been a good year for Ford Performance in the Vehicle Dynamics International Awards.
Highly commended:
Jaguar Land Rover
Runners up:
What the jury said:
Nicol Louw, technical editor, CAR magazine, South Africa: "Ford has shown over the years that handling characteristics are important, even for mainstream budget vehicles. The Ford Focus RS is an example of what the team can accomplish when given the opportunity to work on a performance variant."
Marc Noordeloos, freelance motoring writer, USA: "Ford Performance incorporates an important and often overlooked aspect into their vehicle development program: fun. The Focus RS and Mustang Shelby GT350/GT350R handle brilliantly, but are also extremely entertaining and amusing when driven at a hooligan's pace."
Nikos Kounitis, freelance motoring writer and editorial advisor to 4Wheels magazine, Greece: "A strong team with new ideas, keen to implement new technologies"
Frank Markus, Motor Trend, USA: "Ford Performance is truly on a roll with the dynamically brilliant Focus RS, Shelby GT350, and forthcoming GT."
Jim Kenzie, Toronto Star, Canada: "Advances at the lower (Focus) and upper (GT) ends of the automotive spectrum show that Ford is applying their vehicle dynamics expertise to the benefit of the entire range of automobile consumers.|
Brian Cowan, freelance motoring writer, New Zealand: "Ford only gets serious about performance every 25 years or so, but when the Blue Oval skunkworks teams are let off the leash, magic inevitably follows."
---
Innovation of the Year: Schaeffler Active Roll Control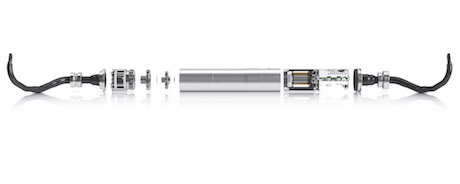 Schaeffler's electromechanical active roll-control system replaces standard hydraulic stabilizers and works in conjunction with a camera, which constantly scans the road surface in front of the vehicle. If any bumps or irregularities are detected in the road surface ahead, the system briefly raises the corresponding wheel to avoid the bump, increasing comfort, safety and dynamics.
To launch volume production for the new system, Schaeffler has built completely new production facilities at Schweinfurt, Germany. The individual systems have a modular design, making it possible to integrate them into many volume production launches in the years to come. The system is on the road today, with two as yet unnamed vehicles, the first being a "luxury class sedan", and the second a "powerful and dynamic luxury SUV".
Highly commended:
Contitech polyamide strut and rear-axle crossbeam
Runners up:
NSK EPS
TrelleborgVibracoustic ZAX bellows air spring
What the jury said:
Padraic Deane, managing editor, Automotive Publications, Ireland: "Schaeffler's electro-mechanical active roll-control system not only improves the ride comfort, but contributes greatly to the performance capacity and efficiency of a car."
Brian Cowan, freelance motoring writer, New Zealand: "Reactive damper systems inevitably suffer from response time problems. Schaeffler's answer is a huge step towards meeting that challenge."
Carl Cunanan, C!, Philippines: "Schaeffler's active roll control is almost pro-active rather than reactive, in the sense that it preps the suspension before the surface problem has affected the actual suspension. This has huge potential in terms of moving to the next level of comfort and handling, and the company has set up to take advantage of this."
Mohamad Sheta, Al-Masry Al-Youm newspaper; Auto Arabia, Middle East Auto News Agency, Egypt: "The Schaeffler Active Roll Control is surely a useful and important contribution to increasing road safety as well as driving comfort"
Sergio Oliveira de Melo, El Informador, Mexico: "This is the future of car dynamics, with more control and comfort."
Nicol Louw, Car, South Africa: "The Schaeffler Active Roll control system has the ability to change mainstream production suspension systems from reactive to proactive."
Nikos Kounitis, 4Wheels, Auto Bild Hellas, Greece: "A great new comfort feature with versatility and modular design."
Frank Markus, Motor Trend, USA: "The 42-volt application of this product in the Bentley Bentayga absolutely erases any evidence that the vehicle is a high-body SUV – it carves corners just like its Continental GT coupe brethren."
---
Development Tool of the Year: Ansible Motion Delta Series Simulator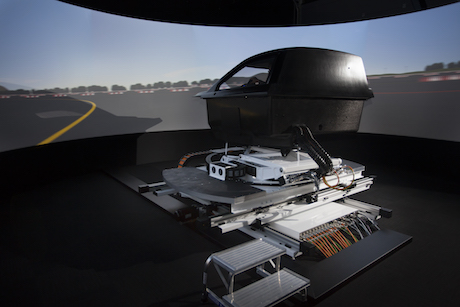 Ansible Motion's new Delta Series Simulator is a 6DOF motion system, powered by 16 5GHz computers. The dynamic system can run five projectors at a frame rate that's five times faster than cinema standard, projecting a 240° wraparound view on an 8m screen. The engineering-class simulation system has already been supplied to a Formula 1 team, which is using it for defining suspension settings.
Highly commended:
Arctic Falls indoor testing facility
Runners up:
IPG Automotive steering test bench
Tec|Concept vehicle design analysis software
AB Dynamics CBAR1000 brake robot
What the jury said:
Carl Cunanan, C!, Philippines: "The Ansible Motion Delta Series Simulator brings the experience and the data to a new level of interactivity and indeed reality. It should reduce time and cost for proper suspension tuning demands."
Jim Kenzie, motoring journalist for Toronto Star and others, "Computer simulation systems provide unprecedented insights into the development of all automotive systems. Ansible's new system appears to break new ground in understanding the ultra-complex world of suspension engineering."
Nikos Kounitis, freelance motoring writer and editorial advisor to 4Wheels magazine, Greece: "A very interesting and innovative tool for vehicle dynamics evaluation and electronic system tuning."
How the judging process works
Nominations are received from VDI's expert readership of chassis and dynamics professionals, and from the editorial team. From that list of entries, between four and six finalists are shortlisted for each category, and this shortlist is evaluated by our international, independent judging panel of automotive journalists, to decide the winners.
The jury:
Frank Markus, Motor Trend, USA
Nicol Louw, Car, South Africa
Hormazd Sorabjee, Autocar India
Robert Bielecki, Oponeo, Poland
Christophe Congrega, L'Automobile Magazine, France
Carl Cunanan: C!, Philippines
Tarcisio Dias de Araujo,
Mecânica Online, Brazil
Padraic Deane, Automotive Publications, Ireland
Choi Joo-sik, Autocar Korea
Jim Kenzie, Toronto Star, Canada
Nikos Kounitis, 4Wheels, Auto Bild Hellas, Greece
Marco Marelli, freelance, Italy
Brian Cowan, freelance, New Zealand
Roberto Nasser, O Globo, Brazil
Marc Noordeloos, freelance, USA
Sergio Oliveira de Melo, El Informador, Mexico
Tomaz Porekar, Avto Magazin, Slovenia
Gábor Szécsényi, Az Autó and Retro Mobil, Hungary
Alvaro Sauras Alonso, Autofacil and CAR&Tecno, Spain
Mohamad Sheta, Al-Masry Al-Youm newspaper; Auto Arabia, Middle East Auto News Agency, Egypt
Oleg Vasilevsky, Auto Bild, Ukraine
Graham Johnson, UKIP Media & Events, UK
Jürgen Zöllter, freelance, Germany