Gordon Murray Design has developed a new version of its proprietary iStream automotive manufacturing system, which is claimed to bring further benefits in terms of weight and performance.
For the few that haven't heard of the iStream system, the name stands for 'stabilized tube-reinforced exoframe advanced manufacturing', a technique intended to give vehicle manufacturers a means to avoid the need for high capital investment and individual chassis designs for each model variant. The original system, first devised in 1998 by company founder and dynamics legend, Gordon Murray, was devised for simple and lightweight body structures, but the new 'Superlight' evolution takes it a step further, consisting of a simple high-strength aluminum thin-wall tubular frame and honeycomb recycled carbon-composite chassis panels.
According to Gordon Murray Design, compared with the stamped metal structures used in most volume car production, a body-in-white structure manufactured using the iStream Superlight process is up to 50% lighter, while also achieving "new levels" of rigidity, durability and platform flexibility.
The principles behind the iStream Superlight construction process are derived from Formula One racing, but the modular nature can be applied to any form of road vehicle, from sports cars and ultra-efficient electric city cars to SUVs and light commercial vehicles. This adaptable formula.
Professor Gordon Murray said: "The new iStream Superlight approach to vehicle manufacturing is a paradigm-shifting innovation for the global automotive industry. It is a breakthrough that will deliver the lightest chassis technology for decades to come. The Gordon Murray Design team has created a unique, adaptable and cost-effective way for manufacturers around the world to dramatically improve vehicle performance and efficiency."
Lightweight seat
iStream can also be applied to components, as demonstrated in a new lightweight seat innovation by Gordon Murray Design which uses the same innovative materials, techniques and technologies as the iStream chassis.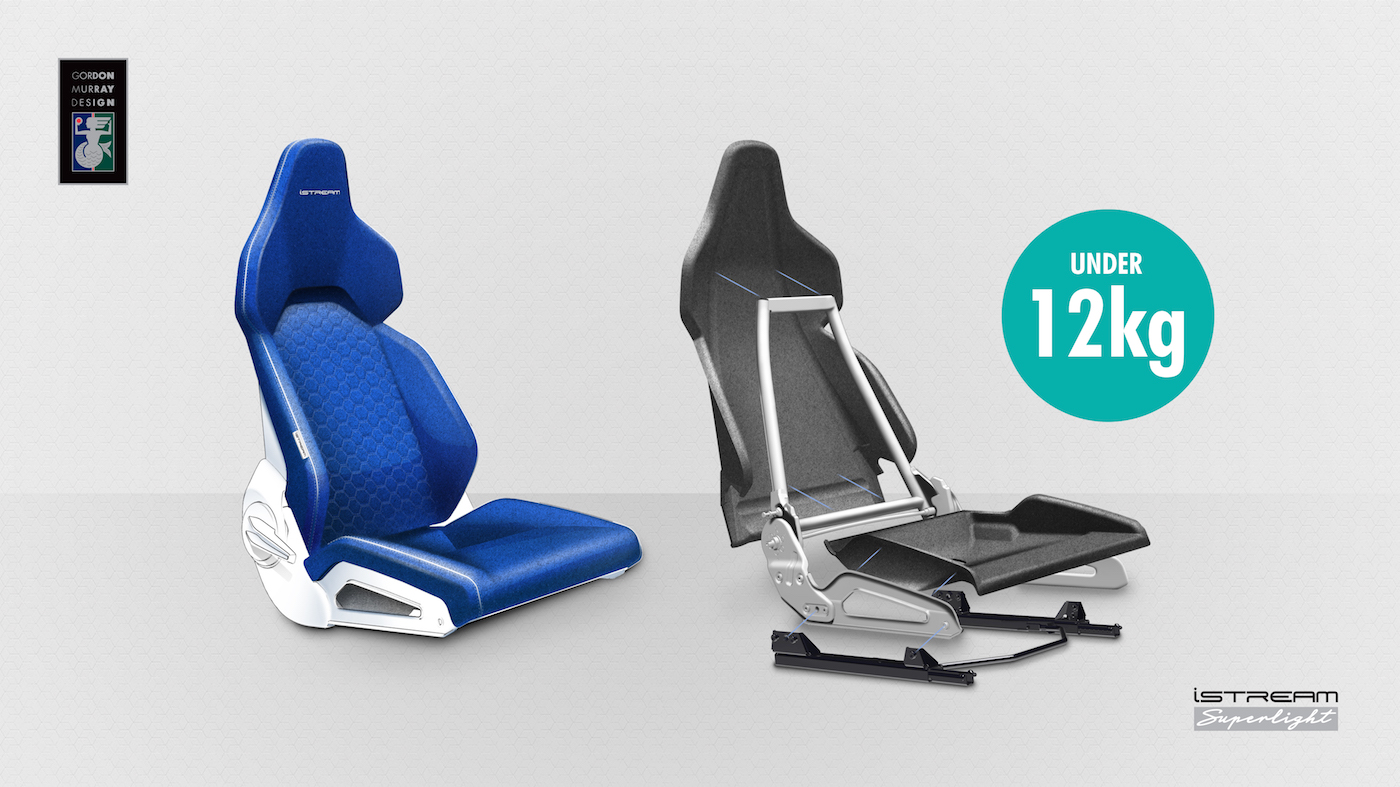 This seat incorporates glass or recycled carbon-fiber composite and a tubular frame to achieve weight savings of a claimed 30% less than a typical vehicle seat.
While the design is aimed at weight saving in passenger cars, the studio says that the seat has the potential to benefit other passenger transportation sectors, from aerospace to rail.